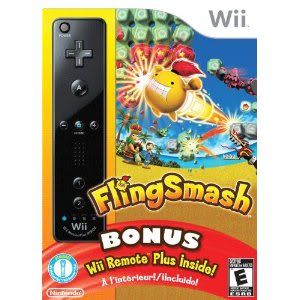 New FlingSmash Wii Games, With Nintendo Wii Remote Plus As Bonus!
Here is a great chance for you who've looking for the deal on getting the new Nintendo Wii Remote Plus controller. You can now pre-order the new game titled "FlingSmash" and you'll get Black Nintendo Wii Remote Plus controller as the bonus!
So we recommended you to pre-order this bundle instead of getting the standalone Nintendo Wii Remote Plus because it has a greater deal (except if you have pre-ordered the Red Wii version).
FlingSmash is a unique side-scrolling action game for Wii that utilizes the Wii Remote Plus controller to bring a whole new gameplay experience to players. Bundled with a black Wii Remote Plus controller, the game uses the advanced all-in-one motion sensing capabilities of the new controller in mix of video game racket sports and pinball mechanics that provides fast-paced, addictive gameplay that is suitable for the entire family. Additional features include two-player gaming option, support for the original Wii Remote with the Wii MotionPlus accessory attached and special functionality for left-handed players.
This FlingSmash and Wii Remote Plus bundle will be shipped on November 7th, 2010 for $49.99 only.